Body
OThis year, for the 39th National Aboriginal and Torres Strait Islander Awards, Martumili Artists were delighted to be represented by grandson and grandfather duo Muuki Taylor and Derrick Butt. In a poignant parallel, the paintings selected for exhibition at the NATSIAA (Museum and Art Gallery, Northern Territory) and accompanying Salon Des Refuses (Gallery 55) exhibitions in Darwin both represented Kulyakartu, their joint ancestral ngurra (home Country, camp).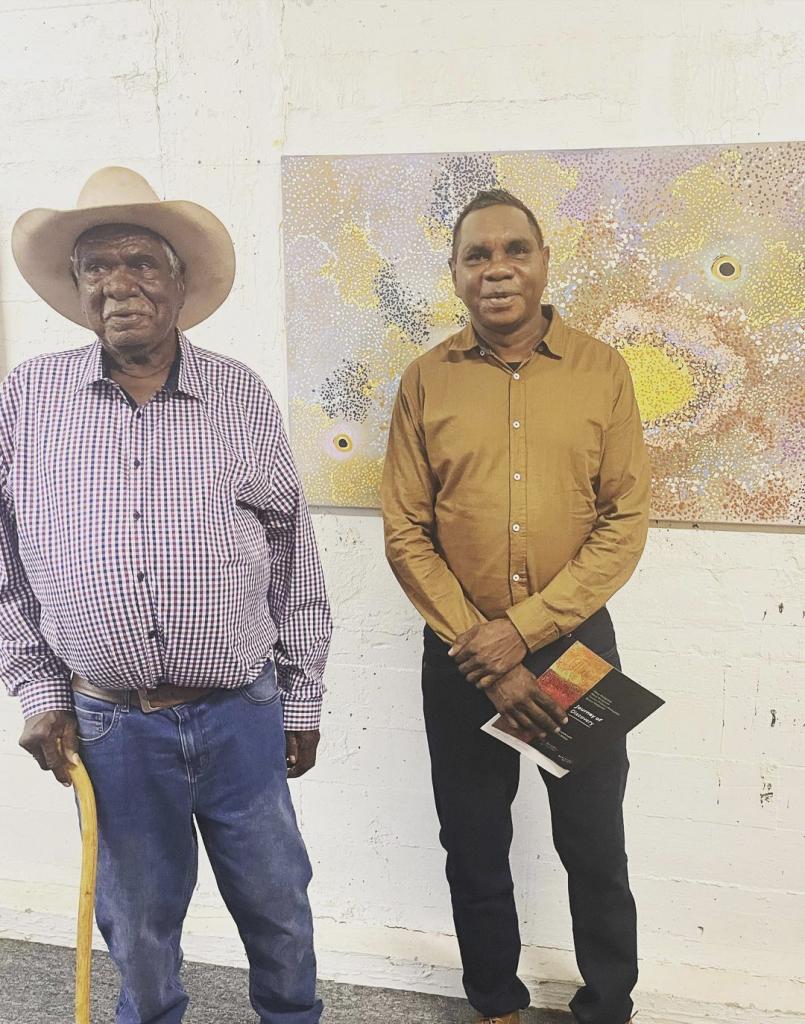 Martumili artists Muuki Taylor and Derrick Butt standing in front of Derrick Butt's Kulyakartu painting at Salon Des Refuses in Darwin
The jam-packed weekend of related award events didn't stop there. Muuki and Derrick also participated in multiple Untold Darwin discussion panels as part of the 'Agency Projects' suite of Aboriginal and Torres Strait Islander storytelling, discussion and exchange activities; Waru, a film produced by Dave Wells in collaboration with Martumili Artist to accompany the exhibition of the same name, was screened and followed by a Q & A session; and our artists and staff were on hand for conversation at the Indigenous Art Code  stall at the Darwin Art Fair. Our heads were reeling too!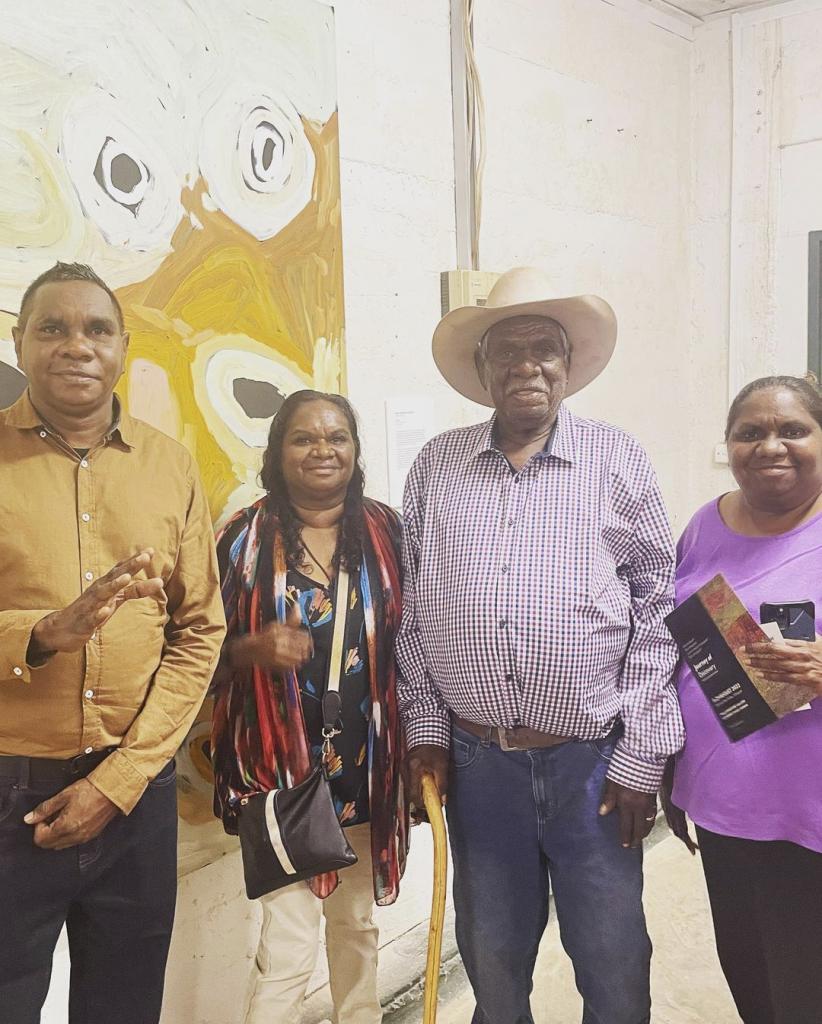 Derrick Butt, Nuria Jadai, Muuki Taylor, and Corina Jadai at Salon Des Refuses in Darwin
Soon after arrival in Darwin, Muuki and Derrick, with family Nuria Jadai and Corina Jadai, made their way to the opening event for the tenth annual Salon Des Refuses, an exhibition showcasing works submitted, but not selected for the NATSIAA. The exhibition draws on the original French idea of exhibiting works rejected by the jury of official awards, and was jointly conceived and executed by Darwin gallerists Matt Ward and Paul Johnstone. Amongst a glorious display, Derrick Butt proudly stood alongside his sublime painting, 'Kulyakartu', happy to have the opportunity to 'talk from his heart', saying "I always love people to see my art, and to know what they're thinking."
The following day, for an Untold Darwin event titled Art for Political Change, Muuki and Derrick discussed the politically charged collaborative work, Kintyre, a work that was central to the recent Tracks We Share exhibition at the Art Gallery of Western Australia, and painted in protest to uranium mining on the culturally significant site of the same name. The full house was clearly captivated by the duo as they discussed the subject matter and motivation for the work.
By Friday 5th August, we were excited and ready for the opening of the NATSIAA, an exhibition widely considered the most prestigious art awards for Aboriginal and Torres Strait Islander artists. This year's exhibition, now in its 39th year, brought together established and emerging artists from 44 different language groups across Australia. Muuki Taylor OAM was one of 63 finalists. Although his work was not awarded one of the coveted prizes this year, we remain in awe of his achievements not only in the art realm, but also as a cultural leader and political spokesperson.
To date, this year represents the second occasion Muuki's work has been selected for NATSIAA. Additionally, his work has exhibited widely across Australia and internationally, and been acquired by the National Museum of Australia and the Art Gallery of Western Australia. Over the last decade, he has travelled extensively across Australia and spoken to vast audiences in relation to his work as an artist, as a highly respected cultural leader and as senior cultural advisor for Martu ranger group, Kanyirninpa Jukurrpa. This kind of cosmopolitan exposure and recognition is already exceptional by most artist's measures; for the same reason it is almost easy to forget that until his twenties, Muuki had lived a completely pujiman (traditional, desert dwelling) lifestyle. At the same time, his direct experience and knowledge of his ancestral lands continues to inform and inspire his beautiful, multi-layered works. View Muuki's work in the interactive NATSIAA gallery here.
At the last minute, testament to his infectious enthusiasm and energy, Derrick spoke at another Untold Darwin event- this time the Indigenous Leadership and Governance in Remote Communities panel… And then we all went home and had a good, long sleep!
Keen to have a look see about buying one of Muuki's or Derrick's works? Well you're in luck. Head to this year's online Tarnanthi Art Market and nab yourself a work from these amazing artists.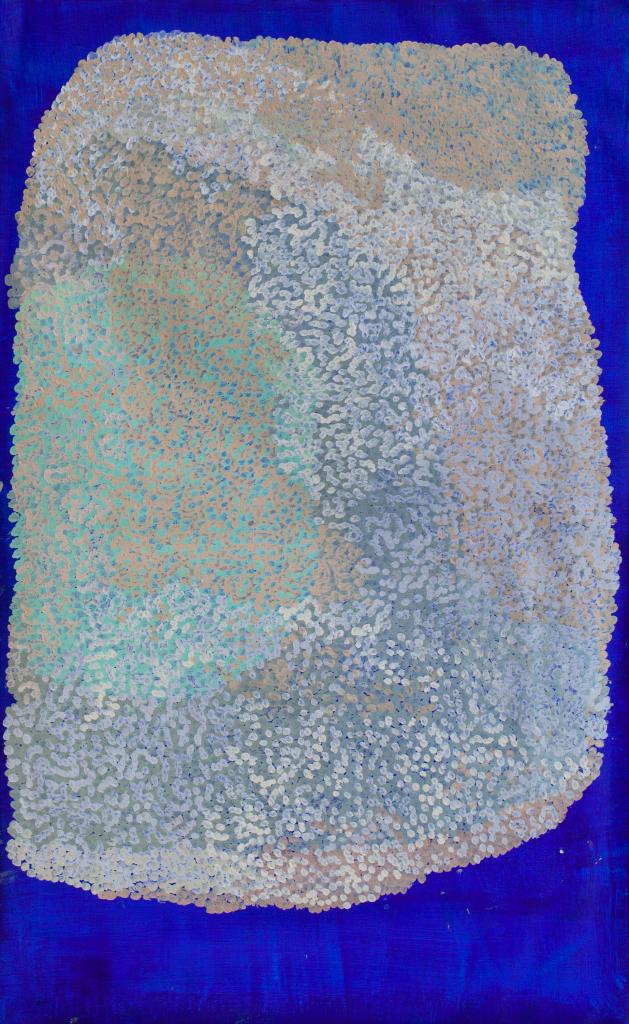 Artwork by Muuki Taylor exhibited at NATSIAA, Darwin