Body
Since late last year, Martu communities Jigalong, Parnngurr and Punmu have been a hive of activity as artists produce artworks, audio works, and photography for our upcoming Mirrka (bushfoods) exhibition. Fuelling this creative energy have been two large scale bush camps centred on an in-depth exploration of traditional botanical knowledge. The camps represent the second instalment in a five year, three stage collaborative project between KJ (Kanyirninpa Jukurrpa) and Martumili Artists, aimed at preserving and communicating traditional Martu knowledge of Country.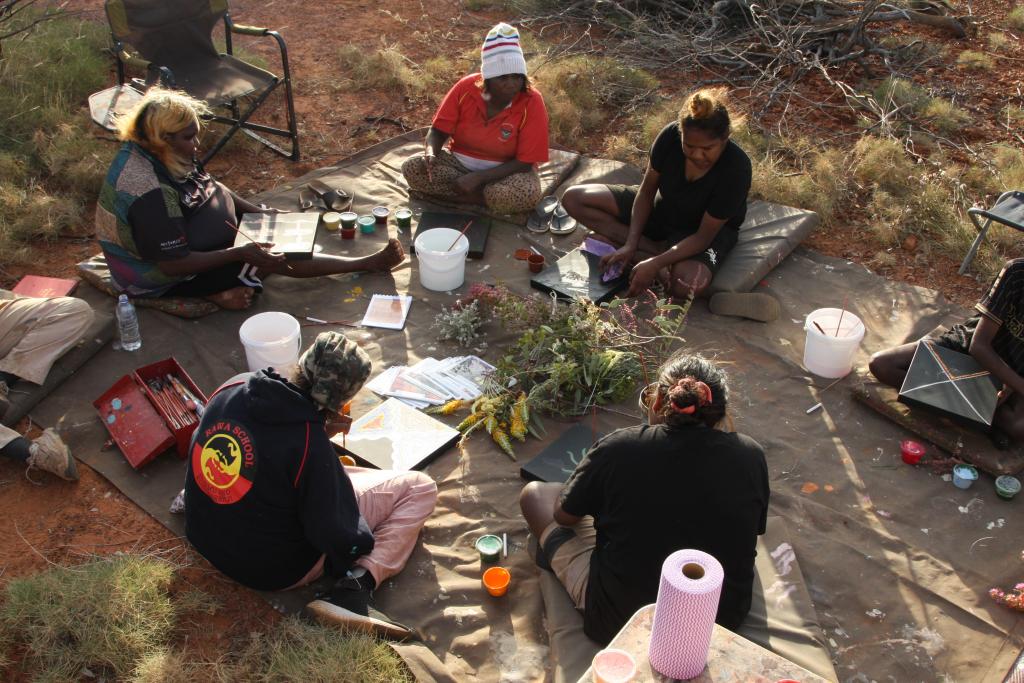 Martumili artists marking artwork for the upcoming Mirrka exhibition. Image by Nick Zafir.
Each of the Mirrka camps have followed a similar format, comprising of around forty wanti kaja (women, girls) ranging from elders to young children, and focussed on multiple outcomes including; collecting and photographing bushfoods; recording oral stories about mirrka; and the creation of individual and collaborative artworks. Elders Nyalangka Nola Taylor, Thelma Ngarga (Nyarrka) Judson, and Noreena Kadibil have taken lead roles in passing on traditional cultural and ecological knowledge (TCEK) specifically related to plants. Together they have shown younger generations of Martu women where particular plant species can be found, how they can be harvested and prepared before consumption, and which plants could be used for their medicinal properties.
One such example was Nola's description of kalaru on the most recent bush camp; "Kalaru grows on the claypan – [it's a] salt bush. And it's got a lovely black seed. People used to harvest and collect it in the clay pan and hit the bush so the seeds come out. Then take it to [the] water place and rinse it because its salty, and then put it out in the sun to dry. Once its dry- put it in a bowl and take it home and grind it up and make yumpal (damper). Nice damper too. Tasty." (Nyalangka Nola Taylor)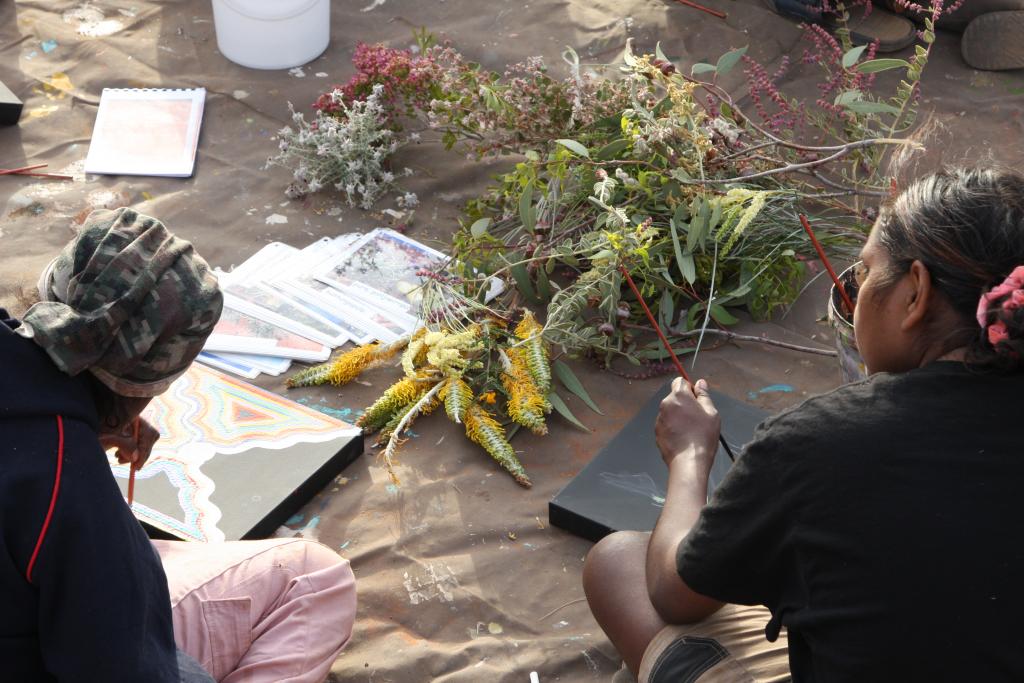 A group of Martumili artists marking artwork for the upcoming Mirrka exhibition. Image by Nick Zafir.
Martumili Field Officer Maddie Sharrock commented on the fact that the project has undoubtedly created a new source of inspiration and motivation for both emerging and established artists, saying "the conversation began and hasn't stopped. It's bush food mania!" She described how, both during and following the camps, there has been a tangible increase in creative energy, enthusiasm, and engagement as artists paint alongside and with each other, animated in conversation and working with purposeful confidence to visually depict their knowledge of mirrka. Many young Martumili Artists have also continued painting a series of mirrka themed works since their involvement with the camps. Young Martumili Artist Brianna Booth describes this organic process; "We was out with the ranger, wanti kaja (girls) [trips], learning bushfood and I made a painting of a desert pea because it's the first thing I thought because it's everywhere."
Central to the project and upcoming exhibition is a large collaborative canvas, measuring 3 x 1.2 metres, that was begun with the first of the bush camps and been continually worked on since then. This work serves as a perfect trope for the project's overarching objective to foster opportunities for intergenerational learning. Typically, at moments when younger women take place to begin painting on the canvas, Nola, Thelma or Noreena will sit and paint alongside them. Casually engaged in conversation with the wanti kaja, they simultaneously provide crucial cultural knowledge and guidance. The collaborative work features the names of bush foods alongside corresponding visual representations, and will continue to provides a significant learning resource long after the Mirrka project ends.
The resultant exhibition, to be opened in 2023, will showcase Martumili's women artists in a collection comprising audio recordings, new paintings, and photographic works. Watch this space!