Body
Since our inception in 2006, Martumili Artists have been recognised as a collective of exceptionally talented painters and weavers. At the same time, we've never been shy of experimentation, and to date our artists have embraced working in mediums including photography, wood carving, animation, and printmaking. So, when the opportunity to work with sonic producers Turn New Music to create sound art, we jumped at the opportunity.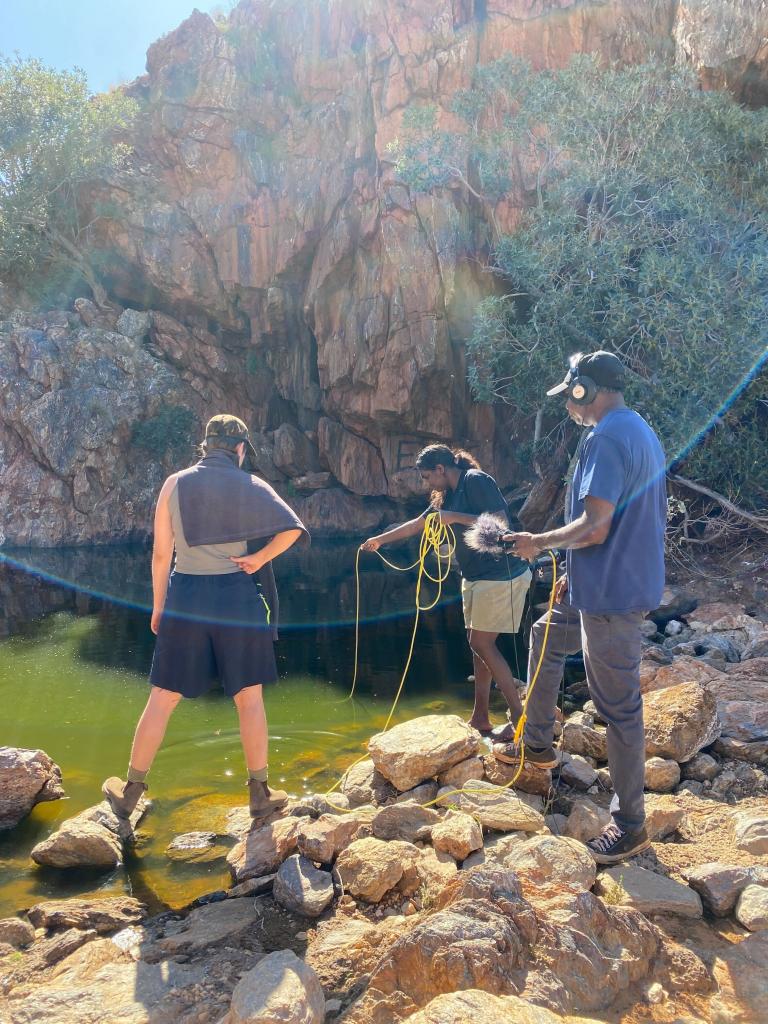 Working in the field with Tura at Punmu.
 
Our three-year collaborative project, Kulininpalaju (We are Listening!) began last year, with Tura sound artists / producers Annika Moses and Tim Pearn travelling to Kunawarritji and Punmu communities. This September, Tura headed back to the Pilbara for the second stage of the project, with Annika Moses and Philip Samartzis working between Parnngurr community and Parnpajinya (Newman). Together, they provided not only the necessary equipment and knowledge around its use, but also an infectious enthusiasm that encouraged exploration of the totally unfamiliar medium to register natural and human made sounds.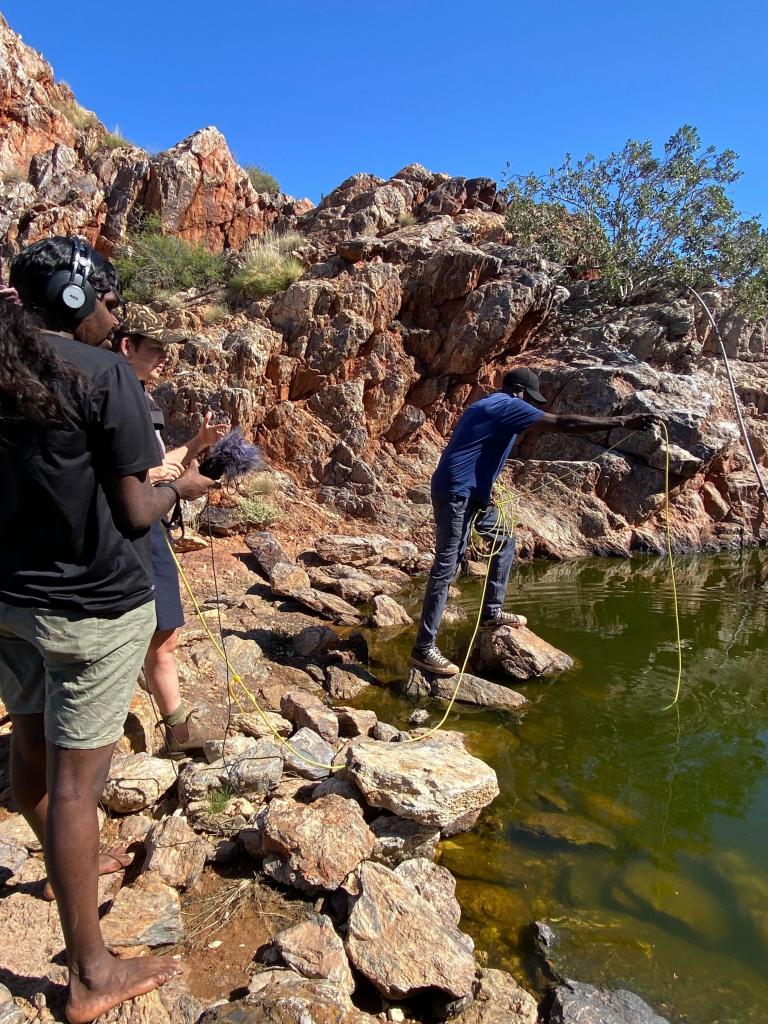 Working in the field with Tura at Punmu.
For each the Kunawarritji / Punmu and Parnngurr / Parnpajinya residencies, Tura's sound artists were based in community for a period of four weeks. During this time, the idea of sound art was introduced to Martumili Artists and community members with an immersive, hands-on approach. Several microphones and headphones, each with their own set of specialised capabilities, were handed out for people to record sounds of their choosing; hydrophones (microphones that can be put underwater) were submerged in rockholes, springs and streams; contact microphones recorded vibrations by being placed on surfaces such as the painting shed floors and the sandy desert soils; and standard microphones were used to record ambient sounds, singing and talking.
For all the Martumili artists involved, the project generated a distinct personal response. Derrick Butt created a sound board from trips to Parnngurr's tip, where he recorded drumming on surfaces such as old, rusting car bodies using the contact microphone. He then layered those sounds into recordings of his singing and guitar playing. Several young women worked together during a camp at Yulpu, a large soak south of Parnngurr, to collect the underwater sounds of fish, oxygen bubbles, and moving bodies. Another group recorded sounds relating to the gathering of different bush foods, such as pods and fruits being picked, the digging for tubers and animal's tunnels, and seeds being rubbed between hands. Artist Judith Anya Samson commented "It was good, to listen, to hear, and to do something different. My favourite thing was to listen to trees and waters and listen to the train and birds, listen on the [Opthalmia] dam."
While individual responses to the project varied, the experience of the first moment when the headphones were put on was universally one of wonder and joy. It was in this moment that sounds previously familiar to the listener were experienced with a heightened sensibility and depth. The Martu are a people already remarkably sensitive to their environment because of their pujiman (nomadic, desert dwelling) history, when survival depended on the knowledge of Country and its resources. This history feeds into a contemporary relationship with Country that continues to exist across multilayered and interconnected realms of cultural knowledge, maintenance, and practices such as fire burning and bush tucker foraging; song, dance and painting; and of course, the direct experience of remote community living. The experience of working with sound; recording and amplifying that which is usually inaudible, or at the very least discreet, intensified and expanded this already incredibly strong relationship with Country. "People really enjoyed listening to the environment in a new way. I think it made people really appreciate their surroundings and engage with it in a different way." (Zoe, Martumili Artists Gallery Assistant and Field Officer).
All the recordings are being put into an archive which will be used in the creation of a future soundscape. Though the final outcome of the project is yet to be realised, with the third and last stage occurring in the field season next year, there's been a lot of excited talk about the possibilities for the large sound installation work that will be completed and exhibited next year. Watch this space!