Body
Having a yarn with Kuru Gladys Bidu, her powerful presence reverberates through her confident, considered speech and commanding voice. Listen a little closer, and the softer side of her nature is revealed with a genuine tone of sincerity, sense of humour, and frequently reflective expression. These attributes serve Kuru well in her many social and cultural roles as a respected elder and Punmu community leader, cultural advisor and board member of Punmu School, and a member of Wangka Lampa Kujungka (the Martu voice) – the group of artists that provide governance direction for the Martumili Artists.
Kuru has painted casually with Martumili since its inception in 2006, but it is only in recent years that she has become one of our most prolific, dedicated and increasingly recognised artists. This shift coincides with her emergence as one of the new matriarchs of Martumili Artists – an art centre deeply imbued with a history of strong women at its helm. Indeed, Kuru was taught to paint by one of these women- her aunt and highly acclaimed artist Jakayu Biljabu (dec.). This influence in Kuru's painting is clear. Like her mentor's works, bold, geometric forms in vibrant palettes crowd Kuru's canvases with an undisputable energy. At the same time, as Kuru attests, she paints her 'own different way' to represent the integral sites of her ngurra (home Country, camp); Pitu (Separation Well) and birthplace Wantili (Warntili, Canning Stock Route Well 25).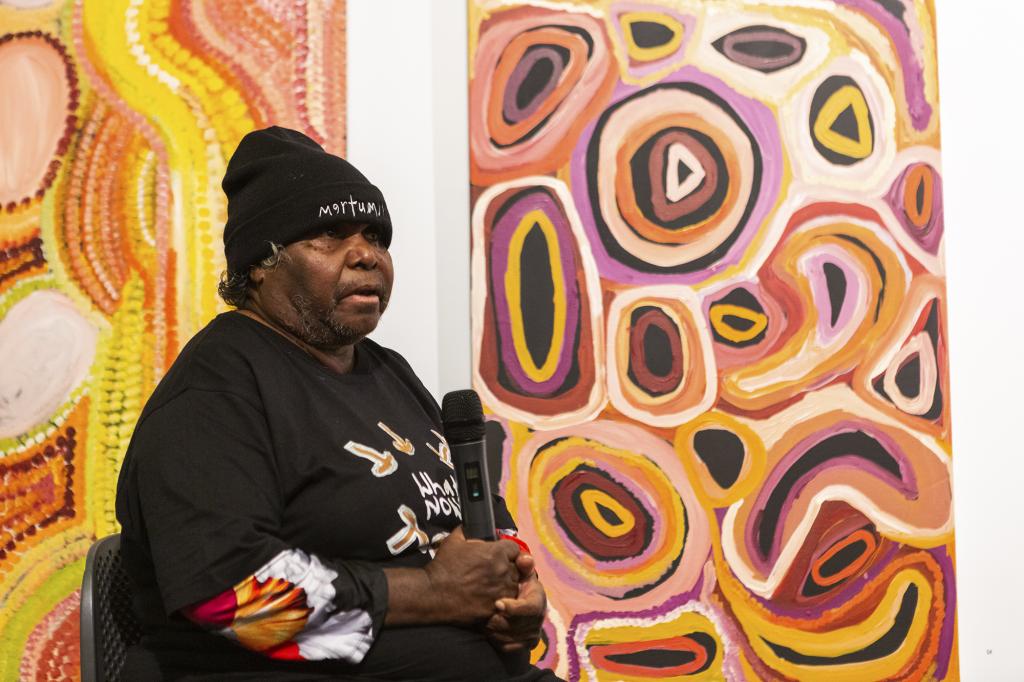 Martumili Artist Kuru Gladys Bidu.
 
Hi Kuru, Wanyjalpa (what's happening?) How was the Christmas sale?
Yeah the Christmas sale was really good. We had a big mob of people, everyone was grabbing and buying the paintings! Mine's three got sold- they going long distance, you know? Sydney, Adelaide. I feel good and proud to know the paintings that I do travel. One I've got to do next year about the Seven Sisters is going to travel to Singapore.
That must be a great feeling! What else do you love about painting?
I love about my painting that I do where I come from. That's where my main focus is on. Wantili, that's my ngurra. That's the place where I was born, and I ended up doing painting about Wantili. Sometimes I do Pitu, my fathers' and grandfathers' Country. I can't do someone else's. I have to do my own Country where my family come from and where I come from too.
You were one of the last of the people to be born in the desert. Can you tell me a bit more about your early history?
I was a little one when I walked out from the desert in '63. I was a little one, maybe 11 months. I was still in my mum's lap. We been go through, you know Wiirnukurrujunu? That's where we first been seen by the whitefella [surveyor Len Beadell], the one with the bulldozer. We went into mission country, Jigalong, when the old people were still alive and healthy.
I stayed there 'till right up when I got older. I was doing schooling there, right up to year 12. Then our parents took us to [Aboriginal owned station,] Strelley, back and forth. When they started setting up a camp for the people in the homeland; Punmu, Parnngurr, and Kunawarritji, round about '82, that's when I went to Punmu. I'm still living there in Punmu. I come into town for meetings and stuff.
Yeah, I'm sure you must have plenty of meetings! You're very active in the community- being a board member for Punmu School and community advisor for Martumili. What motivates you to take on these roles?
It's for the kids. Sometimes we doing painting, or going out on Country. Showing them the Country they belong to, that their grandparents come from. Helping them learn about culture and their connections.
For the school I've been a board member for a long time. My partner was a board member and it passed on to me. We make sure they're doing the right thing, Martumili too. They're doing a good job.
Can you tell me about how you started painting?
You know that old girl [Jakayu Biljabu] been doing the painting, and I used to sit down and give her a hand. I used to see her doing the painting, and it ended up that I do painting then. She taught me how to do painting.
What do you paint about?
We had a connection that belonged to us, me and the old girl, to our ngurra. We had a feeling that we belonged to there. That's why I'm doing painting. Where we all connected to, where our ancestors come from, our birth area.
Wantili is on the Canning Stock Route. It's [Canning Stock Route] Well 25. That's where my birth area is, where I come from. The other painting that I do is my father's home, Pitu [Separation Well]. That's where I get the surname through.
It's special to do paintings about your Country, you know where you belong to? When I do painting I feel, you know, good and proud about my Country.
What's been your most exciting moment as an artist so far?
I travel everywhere for my painting. We went to Perth a couple of times, for Seven Sisters [Songlines, Tracking the Seven Sisters] at the WA museum and last couple of months they asked me to do a painting to enter for the Telstra Award [National Aboriginal and Torres Strait Islander Art Awards]. That makes me feel good. Palya! (good!)