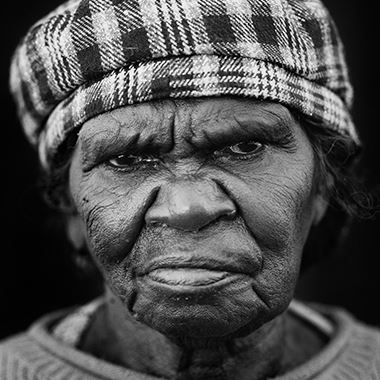 Jakayu is a Manyjilyjarra woman born in the mid 1930s just north of Pitu (Separation Well), an important cultural site and large soak located yulparirra (south) of Wuranu (Canning Stock Route Well 29). Jakayu lived a pujiman (traditional, desert dwelling) lifestyle in her youth, moving through the Country surrounding Kunawarritji (Canning Stock Route Well 33), Wikiri, Rarrki (Canning Stock Route Well 27), Wantili (Warntili, Canning Stock Route Well 25), Pitu, Nyilangkurr and Nyinyari. During this time Jakayu's family would regularly meet and travel with the families of fellow Martumili Artists Bugai Whyoulter and Ngamaru Bidu.
Jakayu's early contact with whitefellas occurred at wells along the Canning Stock Route, when occasionally drovers would slaughter a bullock and share the meat with her family. Despite these interactions, Jakayu's father was very wary of the Europeans who travelled along the route in increasing numbers, having heard of the sometimes violent and cruel methods employed by Alfred Canning's group when the Stock Route was chartered. As such, Jakayu's family waited longer than most pujimanpa (traditional, desert dwellers) before leaving their traditional life.
Jakayu was travelling with her husband (also the husband of her sister), two children and extended family in 1963 when they encountered the surveyor Len Beadell, who was then grading roads through the Western Desert for the Woomera Missile Testing Range. He notified staff at Jigalong Mission of their whereabouts, and consequently they were tracked; "Two men from Jigalong caught up with us. They had been following our tracks. They said we should go back and wait at Parnngurr rockhole and they would come and pick us up and take us to Jigalong, where we could see all our family who we had not seen for a long time. So we did, we went and stayed in Parnngurr" (Jakayu Biljabu, as translated by Ngalangka Nola Taylor). Jakayu was one of the last Martu to leave the desert.
Jakayu worked as a baker at the Jigalong Mission and then several other stations before moving to the newly Aboriginal owned Strelley station for a time. In 1982, during the 'Return to Country' movement, she relocated with her family to Punmu Aboriginal community, where she continues to live today with her children and grandchildren.
Jakayu is a senior Martumili Artist, known for her bold, painterly style and beautiful compositions, deeply entrenched in the Jukurrpa (Dreaming) narratives associated with her Country. She frequently depicts the sandhills, claypans and salt lakes of the Manyjilyjarra desert regions she travelled through to young adulthood, and views painting as an important means of passing cultural knowledge to younger Martu generations. Of recent times, Jakayu has worked on several collaborative paintings with young Martumili Artist Corban Williams. Jakayu is a much acclaimed and awarded artist. Her work has been selected for the Telstra National Aboriginal and Torres Strait Islander Art Awards, and she has exhibited widely across Australia and internationally. Jakayu's work has been acquired by several major institutions in Australia, including The National Museum of Australia, the National Gallery of Victoria, and Queensland Art Gallery's Gallery of Modern Art.
Born c. 1936
Photo taken by Tobias Titz