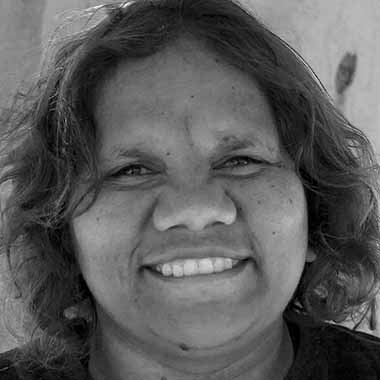 "I was born in Hedland, Port Hedland seaside, but I moved to Jigalong community with my nanna [Dadda Samson] and my pop. Then we moved to desert, to Puntawarri, Well 17. I was still a young girl, still crawling in the desert. It was nice there. Some other families lived there with us. We had some farm, some vegetables. We went schooling in Puntawarri at the school, learning 'two way' [refers to teaching in both Martu Wangka and English, with a focus on local cultural and ecological knowledge]. We used to go and get some parnajarrpa (goanna) and turkey. We had a Toyota truck. We been go hunting at the desert. Some people there still, but they gotta build some new houses and then then we going back to [live in] Puntawarri. My nanna's sister had a house here in Newman, so we used to come and visit. I did high school here in Newman. Now I move between Jigalong and Newman. My nanna is living in Jigalong, so I still go visit here. She's got a green house. My sister is there looking after her.
I started to do painting here at Martumili when I was a young girl. I been help my nanna painting, we were painting Puntawarri one. My nanna was teach me to paint. I work with Martumili now. I help sell the painting, and photograph and catalogue them. I went to America, Fremantle, the Gold Coast, Sydney,  and Alice Springs with Martumili. I also like playing softball. We play for Jigalong, Western Desert. I work for KJ (Karninyanpa Jukurrpa ranger group) mob in Jigalong too. I like to dance and listen to music."
Anya is the granddaughter of Dadda Samson and Yanjimi (Peter) Rowlands, both senior Martu artists. She was born in Port Hedland and has lived most of her life in Jigalong. Any was raised by her grandparents Dadda and Yanjimi, as her parents passed away when she was very young. Dadda has taught Anya to paint; she has passed stories onto Anya for painting. Anya frequently travels with Dadda to her country around Jigalong, Puntawarri and the Rabbit Proof Fence, the subject of many of her paintings. Anya has exhibited in most Martumili Artists' exhibitions in recent years. Her work has been acquired by the Art Gallery of Queensland (GOMA) and the National Museum of Australia. In 2011, Anya travelled to the United States of America with other Martu artists for the exhibition "Waru" at the Thomas Welton Stanford Art Gallery, Stanford University."
- Judith Anya Samson
Born 1987
Photo taken by Tobias Titz