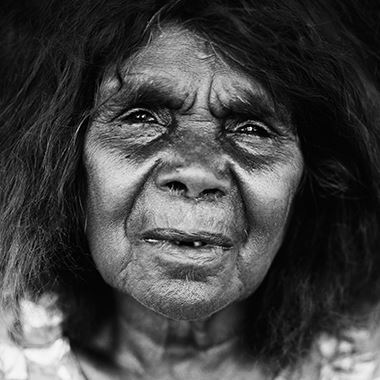 "This Karlamilyi area, big land. That's a ngurra (home Country, camp) belonging to our old people, Warnman people. We talk for our land, our jila (snake). I grew up in this Country, my Country. This land belongs to our father. In pujiman (traditional, desert dwelling) days I walked around here, used to walk up and down tuwa (sandhill) and back to the main camp belonging to Martu. We are Warnman ladies, painting Kintyre and Karlamilyi. We can share this Country."
- Sisters Wurta Amy French and Jatarr Lily Long
Jatarr is a Warnman woman and custodian of the Karlamilyi (Rudall River) region. She was born in the late 1930's at Jatarrngara, a water source located along the Karlamilyi River, and the site from which her name is derived. Jatarr is the sister of fellow Martumili Artists Wurta Amy French and Helen Dale Samson. Her father was a drover who attempted, unsuccessfully, to steal Jatarr's mother and take her back to the Kimberley region.
Jatarr grew up with her family in the area surrounding Tiwa (Canning Stock Route Well 26), a water source located east of Parnngurr Aboriginal Community and just west of a culturally significant group of hills called Partujarrapirri. Her family returned to the Karlamily region for a time, moving between camps located all along the Karlamily River and up to the large salt lake, Nyayartakujarra (Lake Dora). In the late 1940's her family left Karlamily and travelled on foot for more than 200 kilometres to Jigalong Mission, where a supply of rationed food and water was assured. There they were reunited with family members that had already moved in from the desert.
At Jigalong, Jatarr lived in a dormitory with her two sisters and went to school. Later, she worked as a cook on various pastoral stations in the Pilbara and mined for tin and other minerals with a yandy (dish used for winnowing seed). Eventually, Jatarr relocated Irrungadji Aboriginal community, just outside of Nullagine, where she continues to live with her sister Wurta, children and grandchildren.
Wurta and Jatarr paint individually and also collaboratively, primarily depicting their ngurra in Karlamilyi; its animals, plants, waterholes and associated Jukurrpa (Dreaming) stories. Jatarr uses her artwork as a means of transferring cultural knowledge to her children and grandchildren, and as a political platform, protecting her Country from mining and other disruptions. Jatarr is known for her gorgeous pastel palettes and dreamy landscapes, blending aerial and frontal perspectives. She has exhibited extensively since the inception of Martumili Artists in 2006 in galleries throughout Australia, in Singapore and the USA.
Born c. 1940
Photo taken by Tobias Titz