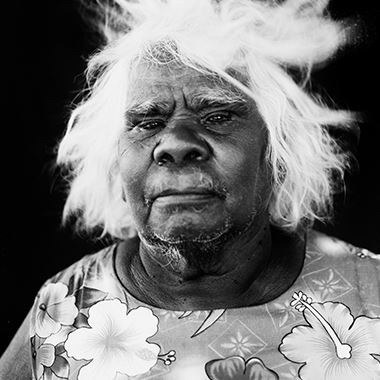 Mayiwalku (Maywokka) May Chapman is the eldest sister of fellow Martumili Artists Nancy Nyanjilpayi (Ngarnjapayi) Chapman, Mulyatingki Marney and Marjorie Yates (dec.). Her mother was Warnman and her father was Manyjilyjarra. Mayiwalku was born to the East, in Yirnangarri, "where the two footprints lie". Her family's Country extends across the Punmu, Kunawarritji (Canning Stock Route Well 33) and Karlamilyi (Rudall River) regions. Following the death of both their parents, Mayiwalku and her sisters travelled alone between Punmu and Kunawarritji, occasionally meeting with other family groups. They later walked south into Karlamilyi, where they first saw a plane flying overhead. Petrified, they hid under spinifex grass until the plane had passed.
Following the construction of the Canning Stock Route in 1910, the family increasingly came into contact with Europeans and Martu working as cattle drovers along the route. Gradually men from Mayiwalku's family began to work seasonally at stations around Jigalong, but as a family group they remained living in the desert long after most Martu had moved to Jigalong Mission. Finally, in 1966, following a prolonged and severe drought, Mayiwalku and her sisters made the decision to walk to Balfour Downs, where they were collected by Jigalong Mission staff.
Mayiwalku lived for many years at Jigalong Mission before eventually relocating with her five children to Warralong, a community south east of Port Hedland. She continues to live in Warralong today with her daughter and equally renowned artist, Doreen Chapman. Mayiwalku was one of Martumili's pioneering artists, and is highly regarded for her technically sophisticated works. Her paintings depict her ngurra (home Country, camp); the Country she walked as a young woman, its animals, plants, waterholes and associated Jukurrpa (Dreaming) narratives. Mayiwalku's work has been exhibited widely across Australia and internationally, and acquired by the National Museum of Australia.
Born c. 1940
Photo taken by Tobias Titz