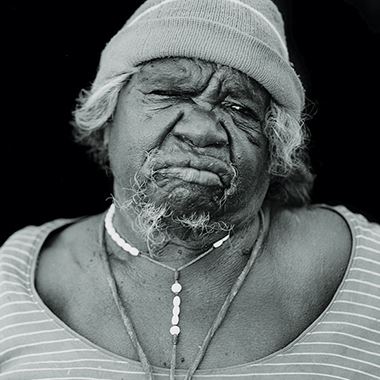 "My mother used to leave us alone, my brother and I [when she went hunting]. I used to cry for my mother to carry me around, but my brother would help look after me. My brother used to carry me, leave me in the shade and wet my hair, and I would wait for my parents to come home with meat. We would wait and see my mother coming with food, and my brother would run to our parents to get the meat while I was sitting in the shade waiting. We used to share food together as a family
[Later] my brother got sick and died and my other brother went north and passed away. I was alone [with my parents]. I stayed with my family and got bigger, and then I went north [to Balgo] when I was old enough to hunt for my own meat."
 - Nora Wompi (dec.), as translated by Ngalangka Nola Taylor
Wompi was a Manyjilyjarra and Kukatja woman, born in the mid 1930s in the Great Sandy Desert at Lipuru (Libral Well, Canning Stock Route Well 37). She grew up in the desert between Punmu and Kunawarritji (Canning Stock Route Well 33) and further northward. When she was young, her parents would go hunting and leave her in the care of her older brother. Following the death of both of her brothers she stayed with her family until she was able to hunt for herself, but eventually decided in her early twenties that she, like many of her relatives, would leave the desert. Nomadic life was harsh, and even more so during the prolonged and severe drought in the Western Desert during the 1960's. 
Together with her close friend Nora Nungabar (Nyangapa), Wompi followed drovers travelling along the Canning Stock Route north to Balgo Mission, where she lived with her mother and worked baking bread and tending to goats. Wompi met her husband at Balgo mission, and together they travelled to Fitzroy Crossing, where she lived with him until his death. Wompi then returned to Kunawarritji to be with her close relatives, where she remained until her passing in 2017.
Wompi was a prolific painter and evocative storyteller, with deep knowledge about the Country surrounding her home at Kunawarritji. For many years she painted alongside Nungabar with both Martumili and Warlayirti Artists. Wompi was highly regarded for her beautifully etheral style. Her work has been exhibited in galleries internationally and throughout Australia, and acquired by the National Museum of Australia and the National Gallery of Victoria.
Born c. 1939 – Deceased 2017
Photos taken by Tobias Titz