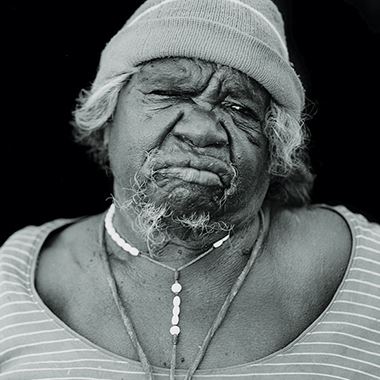 Nora Wompi was born in the Great Sandy Desert in Lilparu, close to Well 33, on the Canning Stock Route. She grew up in the desert, primarily to the north and east of Punmu and Kunawarritji communities. When she was young, her parents often went hunting and left her in the care of her older brother.
Wompi travelled north through Kulikujara, Puntilyarr, Walayurtu, Pankarn, Jintijinti and Mayililyi before reaching Billiluna. She lived at Balgo Mission with her mother and brother, where she worked at the bakery and tended to goats. Wompi met her husband at Balgo mission, and together they travelled to Fitzroy Crossing, where she lived with him until his death. Wompi then returned to Kunawarritji to be with her close relatives.
Wompi was a prolific painter and evocative storyteller, with deep knowledge about the country surrounding her home at Kunawarritji. For many years she painted alongside her great friend and contemporary Nora Nungabar with both Martumili and Warlayirti Artists.
Born c. 1939 – Deceased 2017
Photos taken by Tobias Titz